ACC doesnt identify with a specific denomination, but ACC adheres to the traditional faith of the church. The ACC believes in the Trinity as God who is the Creator, Jesus who is God's only son and the Holy Spirit. The ACC believes in the ultimate authority of God and believes in the divinity of Christ, and the eternal impact of the death and the resurrection of Jesus Christ. The ACC believes in, and upholds the great commision, to preach the Gospel and to make disciples to the end of the earth.
The Book represents God's word, and it's central position in the ACC's training and education. The three candles of the candle holder symbolise 'Truth' (Veritas), 'Education' (Educatio), and 'Restoration' (Resparatio) which are the 3 core aspects of ACC's purpose. The encompassing circle represents the harmony of the 3 values, and how they relate.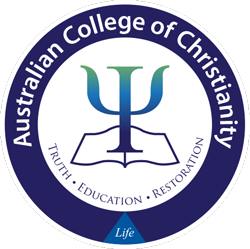 The Australian College of Christianity was founded as a private company limited by shares in 2013 as a result of visions of Hun and Mijin Kim. The Australian College of Christianity commenced courses in 2015 and has a vision to cover various christian communities all over the world.