ACC does not support a specific denomination but ACC adhere to the traditional faith of the church. ACC believes in the Trinity as God who is the Creator, Jesus who is God's only son and the Holy Spirit who impresses us. ACC also put the ultimate authority to God and his word and believes the death and the resurrection of Jesus Christ. Furthermore, ACC believes that our mission is to preach the Gospel and to make disciples to the end of the earth.
The Book in the middle stands for God's word and it means that the truth of the Bible is the centre of all training and education. The three candles of the candle holder symbolise the truth (Veritas), education (Educatio), restoration (Resparatio) that are ACC's purpose. And outside the circle shows that every value make harmony in one like trinity.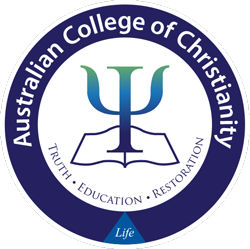 Australia Christian College was founded as a private company limited by shares in 2013 as a vision of Hun and Mijin Kim in response to needs of christian communities. Australia Christian College will start courses in 2015 and it has a vision to cover various christian communities all over the world.
Nationally recognised and accredited course codes
CHC51015 Diploma of Counselling
CHC81015 Graduate Diploma of Relationship Counselling
BSB61015 Advanced Diploma of Leadership and Management
CUA51015 Diploma of Screen and Media